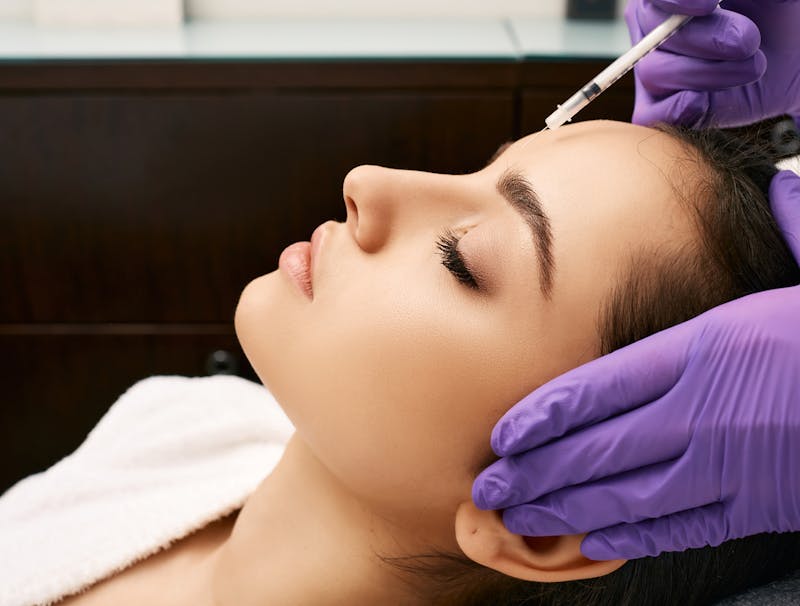 Migraine headaches are so powerfully debilitating that they are famous for being extremely hard to treat. BOTOX is an incredibly popular wrinkle relaxer that's been in use for decades. While it's widely known for its rejuvenating ability to reduce wrinkles and smooth the skin, it's a lesser-known fact that BOTOX can help with Migraines.
In fact, BOTOX can be used in a variety of ways to improve the quality of life for patients. BOTOX is used by doctors to selectively block nerve signals to reduce excessive sweating, pain, and other concerns. This is also how it improves migraines.
How can BOTOX treat migraines?
There is a specific, unique way that BOTOX injections can be applied to reduce migraines. BOTOX is injected into areas around the head and in the neck. This effectively blocks the nerve signals that are sending the pain from your brain to the nerve endings around your head.
Studies have shown that about 70% of the people who were treated for migraines with BOTOX experienced half of the headaches they experienced before. BOTOX also works by relaxing the muscles that clench and cause tension headaches.
The result of BOTOX being applied in this way is fewer headaches and migraines for the great majority of patients who suffer from this pain.
How often should our BOTOX treatments require to successfully prevent migraines?
BOTOX is FDA-approved to be used for the relief of chronic migraines. Chronic migraines are severe headaches that occur 15 or more days in a month. BOTOX treatments for migraines are performed once every three months to provide relief.
While patients don't usually experience relief after their first BOTOX treatment for migraines, they can expect to experience improvements after the second or third treatments. Benefits continue to increase as the number of treatment cycles continues.
What happens during the BOTOX treatment for migraines?
BOTOX injections are delivered precisely to specific muscles around the head and neck. The muscles chosen are where the pain fibers and applicable nerve endings are. You will feel a pinprick from the fine needle used as the BOTOX formula is injected into the muscles under the skin.
During one BOTOX treatment for migraines, there will typically be 31 injections. These injections will be focused on seven key areas around the head and neck. It will only take about 20 minutes to complete these injections.
You may have some soreness in your neck after your treatment. An ice pack can help to reduce any discomfort.
BOTOX for migraines at Ponte Vedra Plastic Surgery
You don't have to live in pain anymore. BOTOX treatments for migraines can change your life. It's important to remember that BOTOX treatments for migraines must be performed by an experienced doctor who is qualified and trained for this procedure. At Ponte Vedra Plastic Surgery, we specialize in both surgical and non-surgical procedures to improve the quality of our patients' lives. BOTOX treatments for migraines at Ponte Vedra are performed by specialists whose experience with this is outstanding and whose skill and excellence ensure ideal results. We invite you to learn more about our BOTOX treatments for migraines. Please call today for a consultation.