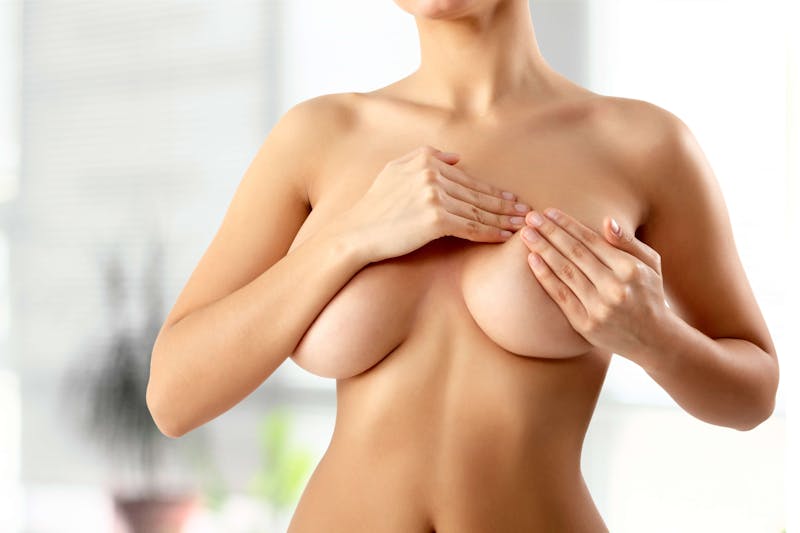 The ability to nurse is important to many women as they look forward to pregnancy. If you are considering breast augmentation surgery and plan to have children in the future, you may have a lot of questions about your ability to breastfeed. At Ponte Vedra Plastic Surgery, our staff of board-certified plastic surgeons and other medical professionals perform countless augmentation procedures each year. At our clinic in Jacksonville, FL, we offer women high-quality care while answering their concerns about surgery. Find more information by reaching out for a private breast consultation.
Your breast augmentation consultation
Breast augmentation is among the most widely discussed forms of plastic surgery. During your consultation at Ponte Vedra Plastic Surgery, we can review your medical history and perform an examination of the breasts. Taking detailed measurements is also important for proper planning and implant selection. Our physicians offer Crisalix Virtual Aesthetics, an advanced program that allows individuals to see their results before the surgery even begins. Patients are scanned into the program, where they can view how they would look with various implant types and sizes.
At your consult, we encourage you to ask any questions, or pose any concerns, about breast augmentation and breastfeeding. In addition to talking about your candidacy, we can also discuss getting breast implants after pregnancy. The more questions you ask, the more informed about the process you will be. Not only that, but you will feel more confident in the abilities of your physician. Many women find it helpful to create a list of questions beforehand to make sure they cover all their bases. Some questions we often receive include:
Can you breastfeed with implants?

Is it dangerous to breastfeed with implants?

Can I use a breast pump with implants?

Will pumping damage my implants?
Can you breastfeed after breast augmentation?
When planning to have children, many women who had breast surgery question their ability to nurse. Despite what some people assume, the answer is usually yes. During the procedure, breast implants can be placed between the chest wall and natural breast, avoiding any interference with the ducts from which the milk is excreted. At your appointment in Jacksonville, FL, you can ask more about incision placement and whether it may interfere with future nursing.
Although having augmentation surgery doesn't necessarily mean you can't breastfeed, we still can't guarantee success in nursing. Milk supply may be limited by a number of factors we can't always predict. Breastfeeding may also be hindered if the procedure severs the nerves in the nipple, which is usually stimulated by nursing. Waiting to get breast implants until after pregnancy is, likely, the only way to increase your chances of nursing. Since every pregnancy is different, having an expert available can relieve any fears and make sure you are approaching breastfeeding in a safe and effective way.
Will the implants affect the milk?
Many of our patients want to know if you can breastfeed with implants. The breast implants offered at Ponte Vedra Plastic Surgery are made of medical-grade saline and silicone material. All are safe and FDA approved for breast enhancement in patients. While some women may be concerned that the materials used in implants will leak into their breast milk, this is highly unlikely to occur. Even in the case of an implant rupture, there are no studies that support the idea that breast implants affect breast milk. There is also no evidence to support the idea that breast implants will harm a nursing baby.
Will the implants affect my breast pump?
A breast pump is an excellent way to make sure you have plenty of milk on hand. But how safe is it to use a breast pump after receiving breast implants? Since implants are designed to mimic the appearance and feel of real breast tissue, there's no reason why they should interfere with the functionality of a breast pump. It is also very unlikely that the breast pump will cause damage to the implants. Since everyone's body reacts to surgery and pregnancy differently, we do recommend speaking with a skilled physician or lactation specialist for more detailed information.
Learn more about breast implants and pregnancy
So, can you breastfeed after breast augmentation? At Ponte Vedra Plastic Surgery, we are confident in your ability to nurse following breast enhancement. Offering many cosmetic and reconstructive surgeries, our board-certified plastic surgeons and technicians are ready to provide answers to your questions in Jacksonville, FL. Since we value each patient, our staff members go out of our way to attend ongoing training so we can address each of your concerns. Learn more about what we do, along with getting breast implants after pregnancy, by scheduling a visit with our facility.